It's monday morning. We discuss the situation. We now have a definite solution with the repaired engine, so we agree that it is not worth spending more money unnecessarily on various trials that these mechanics are coming to do. When Rick and the other mechanic, who appears to be in his early 20s, arrived at the front of the boat pulling a stylish tool tray that always looks cool, I was already thinking of words to cancel their work for the day, with my arms crossed. It is not easy to speak up, especially when Rick, with his sincere look, is standing with a rosy-cheeked young friend. However, I made up my mind to express our dissatisfaction with the failure of the engine repair after we had to wait for ten days. Based on this, I should also negotiate on the price of the estimate.
Rick proposes to install a pump that automatically bleeds the fuel system using power from the battery. If this does not resolve the issue, he will remove the pump. However our hearts are already on the Jim's engine.
"Oh, I see.. But can the stairs hinge be fixed?"
While Rick goes down to replace the stairs hinge, the young, rosy-cheeked mechanic sits and waits in the cockpit. However, the captain says,
"Why don't we just let them try that?"
"What? Why?"
I am puzzled because I was in the midst of developing logical arguments for an aggressive and effective claim, but now he wants to take a more conciliatory approach. The captain says that we have trusted and entrusted them so far so we could give their proposed work a try for the last time.


Brrrrrrrr!
The adversarial atmosphere is nowhere to be found any longer. While Rick installs the bleeding pump in the engine, we chat and make small talk with the young mechanic in the cockpit. He seems more like a messenger delivering tools to Rick than a replacement for Chris, the senior mechanic. He has blue eyes and blond hair, but his grandfather is a Native American and due to his 25% Native American heritage, he holds a Native American ID card. He mentions that he works as a fisherman during the season and that only Native Americans are apparently allowed to use the nets and fish in this area.
Come to think of it, we once ate delicious salmon from a fisherman's boat in this marina, and that fisherman was also a charming Native American with long black hair and tanned skin. There are some Native American tribes near Port Angeles, and places like Neah Bay and La Push have more Native American communities. As a first-time visitor to the US, I found it interesting to encounter "America" in an area where Native Americans have such a strong presence.
As anticipated, Rick's bleeding pump did not turn out to be a game-changer.
Kekekekekeng..
Kekekekekekekekekekeng..
However, Rick does not give up and tries something else. Anyway, we will negotiate the estimate, so it's no big deal. We continue to chat with the young guy comfortably in the cockpit. But,
Brrrrrrrr!
What is going on? Why is the engine starting? Now we two silly sailors are surprised by the normal engine sound. We can hardly believe it when we hear the brrrr sound coming from our engine, as we have been listening to the dry engine sound for so long (multiple times a day!).
Rick, with a full face of happy smiles, emerges his head into the cockpit. Despite the bleeding pump being ineffective, he decided to check all fuel tube connections and filters again from the beginning. In one of the filters, he discovered two upper O-rings. The rubber rings are fitted above and below the filter to prevent air from mixing with the diesel. Upon inspection, it appears that the upper ring was doubled over.
https://www.heavydutypros.com/

While performing the first bleeding in Port Angeles, the captain mentioned, "The upper O-ring is missing. I must have changed the filter wrongly before." However, it turns out that the O-ring was actually attached to the filter lid. When a new one was introduced, it overlaid with the existing O-ring, creating a gap that allowed air to enter constantly. This small O-ring was the cause of all our engine-related delays and frustrations. So this is how we add one more episode on our Fantozzi series.

Fantozzi and the Sword fish


The Seamanship
The voyage that we thought had ended continues on. The boat, which was docked in the same spot for a week, now has seaweed growing on its submerged hull. It's hard to believe that this stationary dwelling is moving again. We can't believe that we can now go to places like Neah Bay or La Push, and bar crossing, which we only heard of, is no longer someone else's business.
We are grateful to our friends who have helped us during our stay in the marina. Friends provided us with support and encouragement whenever the dry engine sounded, Ryan who applied long-term moorage rates to us even though the marina had a long waiting list. Paul with beautiful long hair, and particularly Wade of Tayana 37, was more helpful than anyone else.
"It was an honor to meet you and offer assistance. I thought I was just getting help from other sailors. Thank you for giving me the opportunity to repay the favor. I hope your cruse to Mexico provides a wonderful and rewarding lifetime experience."
As we were discussing the innate kindness of Americans and their willingness to help others in need, we receive a call. It's Chris, who has sent Rick and the young mechanic today in his place today. He demanded that we pay an amount even higher than the quoted estimate over the phone. While the engine had been fixed, making it hard to negotiate the price in the estimate, we still had some objections. So we request to see the updated estimate first,
"Listen… you pay now or you run."
"What do you mean???"
Rick must have felt great after the dramatic turnaround of his engine repair from a complete failure to a great success and called to report the victory to his company. However, Chris was more worried about us running away now that the engine was fixed, and immediately called to demand payment. While it is possible that some boats may run away, it is still disrespectful to say that we would run. This experience reminds us not to generalize and label all Americans as kind people just because we have met a few kind ones.
I wonder if I'll ever have the opportunity to repay this kindness to someone else who needs it. While I was staying in Port Angeles, the boat remained still, but my thoughts about the voyage progressed. I came here to join the boat to assist the captain, who was unable to find a crew, only in starting the voyage smoothly. However I have developed a sense of purpose to go to Mexico now, after having talked so much about "going to Mexico" to others.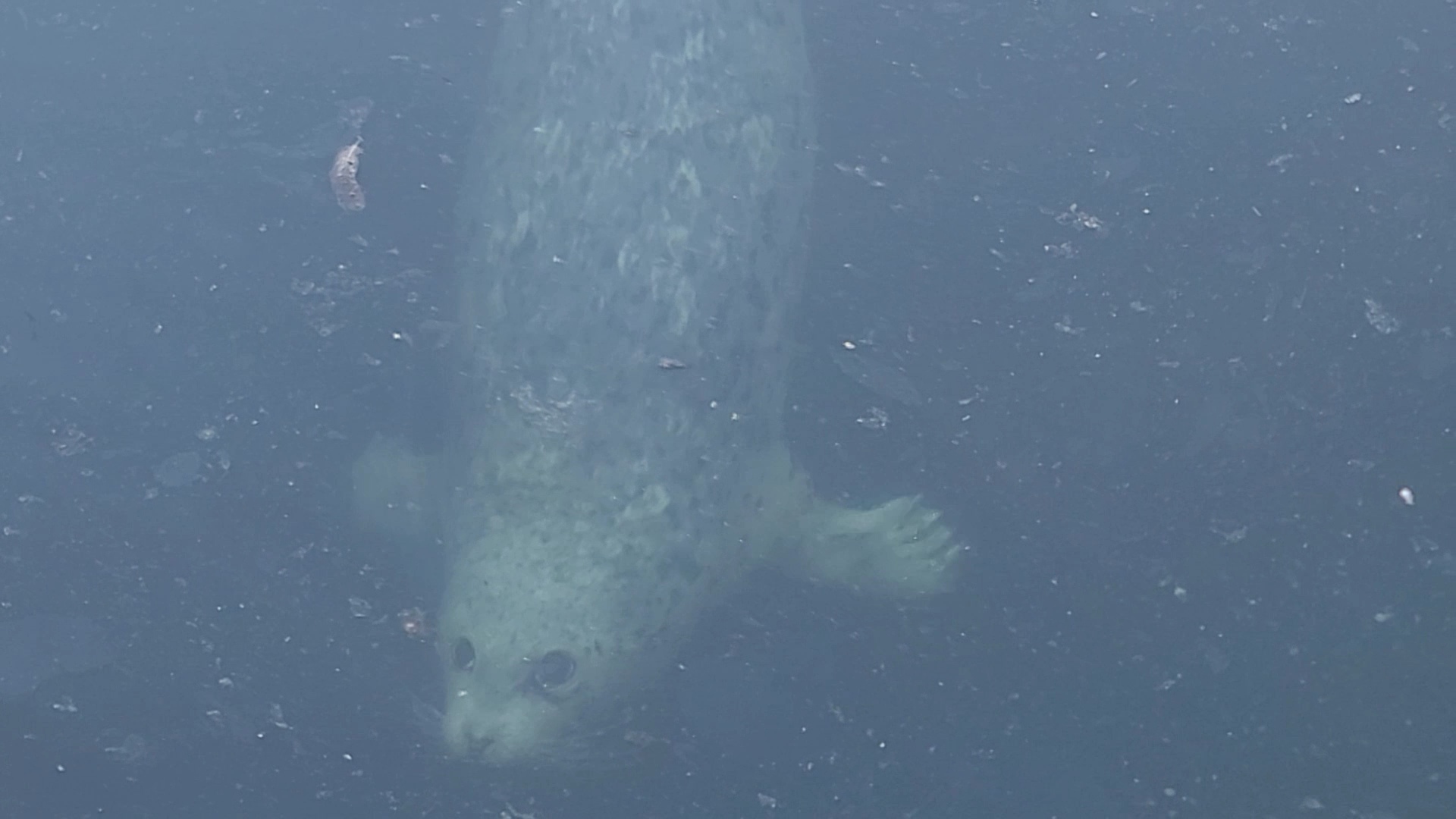 The voyage resumes
We used to wake up every morning wondering how to spend my time, but suddenly we became busy. It will be difficult that we happen upon a large city for a while, so we need to go shopping for supplies at a large supermarket in Port Angeles, do laundry at the coin laundromat, and say hello to all of our friends at the marina.
Rick has only started the engine once, so we will also make a test voyage to a nearby location to be sure. Even after having successfully sailed to nearby, dropped anchor and had lunch and come back still alive, I still can't believe that the engine starts and the boat moves. There are only some abnormalities: It takes some time for the engine to start and there seems to be a lot of white smoke.
We spent the night before the departure with our Korean friends who operate a seafood processing plant near the entrance to the marina. We had met them by chance a few days earlier in the coin shower room. It was late at night and I was taking a shower alone in the 2-person shower room without a partition when I heard someone say
"Oh my, there is someone in here! Is there someone in here?"
in Korean. It was strange to hear Korean in a place like this, and I thought my ears were playing tricks on me. She was a Korean lady who had been using the empty marina shower room at that time.
We had eaten Korean food and kimchi at the plant and said hello each time we passed by. And on the night before the voyage, as we were about to take our last shower and leave, we ran into them again. Even though we were planning an early morning departure the next day, we couldn't resist having some wine together.
Everyone seems worried when we say that we are going down to Mexico on a sailing boat. Even though we will be staying every night in port and we have stocked up on enough provisions, our fellow Koreans can't help but worry about the availability of food. They provide us with information about seafood on the US Pacific coast that will be sufficient to sustain us even without our provisions on boat, such as how to pick seaweed on the coast when the water is low, types of edible seaweed, and fish that are commonly caught.
Early morning at 5:40 am. Without any warning, we are suddenly awoken. According to the information, it is important to depart at the right timing due to the strong current in Juan de Fuca. Today is a day where we can benefit from the current if we leave early in the morning, but it takes another hour for us to actually depart. We feel anxious and open the engine room hatch to refill the engine oil that we refilled yesterday and check the coolant that we refilled yesterday as well. It doesn't feel like the propeller will start immediately, so we refill the transmission oil, but we can't relax until we try to move the boat forward and backward before we can release the mooring line with peace of mind.


Departure, but
The morning sun reflects on the water and the birds flies up. As we depart from the Port Angeles marina and resume our voyage, my heart swells. Today, there is almost no wind. However, according to the calculation, if we take advantage of the strong westward current in the morning, we should be able to arrive at Neah Bay at a decent hour. Juan de Fuca is notorious for its thick fog, but luckily, it's not too bad today. The engine is still uncertain, but the average speed is over 5 knots. As we sail along Juan de Fuca, which divides the border between the United States and Canada, we are continuously greeted with alternating "Welcome to the US" and "Welcome to Canada" messages by the telephone service provider. While this is happening, the captain glances at a message on his phone and I notice his eyes flickering, which puts me on edge. Based on my experiences, this is usually an indication of something worrying.
"The radio is being delivered to the marina today…"
The day we found out that engine repairs would extend our stay in Port Angeles by another week, we arranged for the radio to be shipped to the Port Angeles marina office. It had been mistakenly delivered to Vancouver after our departure and was being held there. But there were issues with customs and yesterday, after finally getting in touch with the delivery company, we were told that it would take between 45 and 90 days to clear customs. So, we asked for the radio to be returned. Some sort of error has caused the radio to be delivered to the Port Angeles marina today of all days. How unfortunate.
On a perfect day like this, when we've already sailed a considerable distance towards Neah Bay, we are faced with the difficult decision of what to do with the radio. We could cancel the delivery and return it to Vancouver as originally planned, or we could have the radio delivered to Port Angeles marina and then take the bus from Neah Bay to retrieve it. The second option would involve a five-hour round trip by bus, and we were unsure if it was safe to leave our boat unattended for that long in an unfamiliar location. So in the end, we turned the boat around.
In the Mediterranean, I generally used radios when entering a marina or when communicating with nearby boats, with the exception of some remote locations. However, based on the information we gathered at the Port Angeles marina, it seems that a radio is an crucial safety item for sailing in this area, even when there is little likelihood of needing to make a distress call. Upon realizing this, the idea of sailing without a radio is unsettling. Instead of taking the bus, we decided to return to Port Angeles by our boat.
Suddenly our speed drops from 5 knots to 3 knots. It turns out that the sudden improvement in the performance of our engine was not the result of the engine itself. The "benefit" of the current we were experiencing turned into an equal "loss". We worry if we can make it to Port Angeles before the marina office closes at this speed. The wind direction shows that a weak wind is blowing from behind. Even with just the genoa open, the speed increases. In this situation, how big is the difference of 1 knot! Thanks to this, we arrive at the harbor entrance on time without overloading the engine rpm.
When we arrived at Port Angeles marina for the first time, we couldn't see the open entrance and were feeling tense. But now, this place feels like home. And yet, we find ourselves back in Port Angeles again. Will we really be able to depart from here tomorrow?