We feared the voyage would end at the US border, but it turns out it only went 100 meters beyond before ending here. We were deeply disappointed. Even more because it took us two weeks to go that distance.
"How much power does our current engine have?"
"This engine is about 30 horsepower."
Tayana 37 with its canoe stern
Feeling frustrated, we grilled a bunch of pork belly and overate and drank before taking a nap. Upon waking up with a hangover in the afternoon, we went for a walk on the seaside and realized something seemed off. The boat displaces over 11 tons, the 30 horsepower engine seems way insufficient. Other sailing yachts of similar size have at least 40 horsepower engines.
Upon returning to the boat, we discovered that our engine was actually 48 horsepower and the engine hours were 3,000 instead of 300,000 (with two fewer zeros). It also seemed unusual that a 25 horsepower engine would cost about $30,000.
Additionally, when we inquired about the necessity of checking for injectors and performing a pressure test before removing the pump (after consulting with Taejin), they insisted that the problem was with the injection pump and said that they would have to come back with equipment to do a pressure test. The earliest available appointment was next week, and as we were eager to set sail as soon as possible, we had no choice but to follow their guidance.
Now we need to consider how to negotiate the grandiose estimate that Chris sent us and find a place to leave the boat until we can replace the engine. With a heavy heart, we also began discussing whether to fly to Mexico or go directly to Korea and come back when the engine is ready.
Chris, who seemed to have gotten some new information, sent an email saying "Maybe we can fix the engine" and that he would send Rick and another engineer on Monday. He also offered to fix the companionway stair hinge that he broke while climbing up and down when it was not secured on the engine room hatch.
However, our trust in them had already been severely compromised. We needed to make a quick decision on how to proceed, as there was a risk of continuing to pay their hourly rate for additional attempts without any success.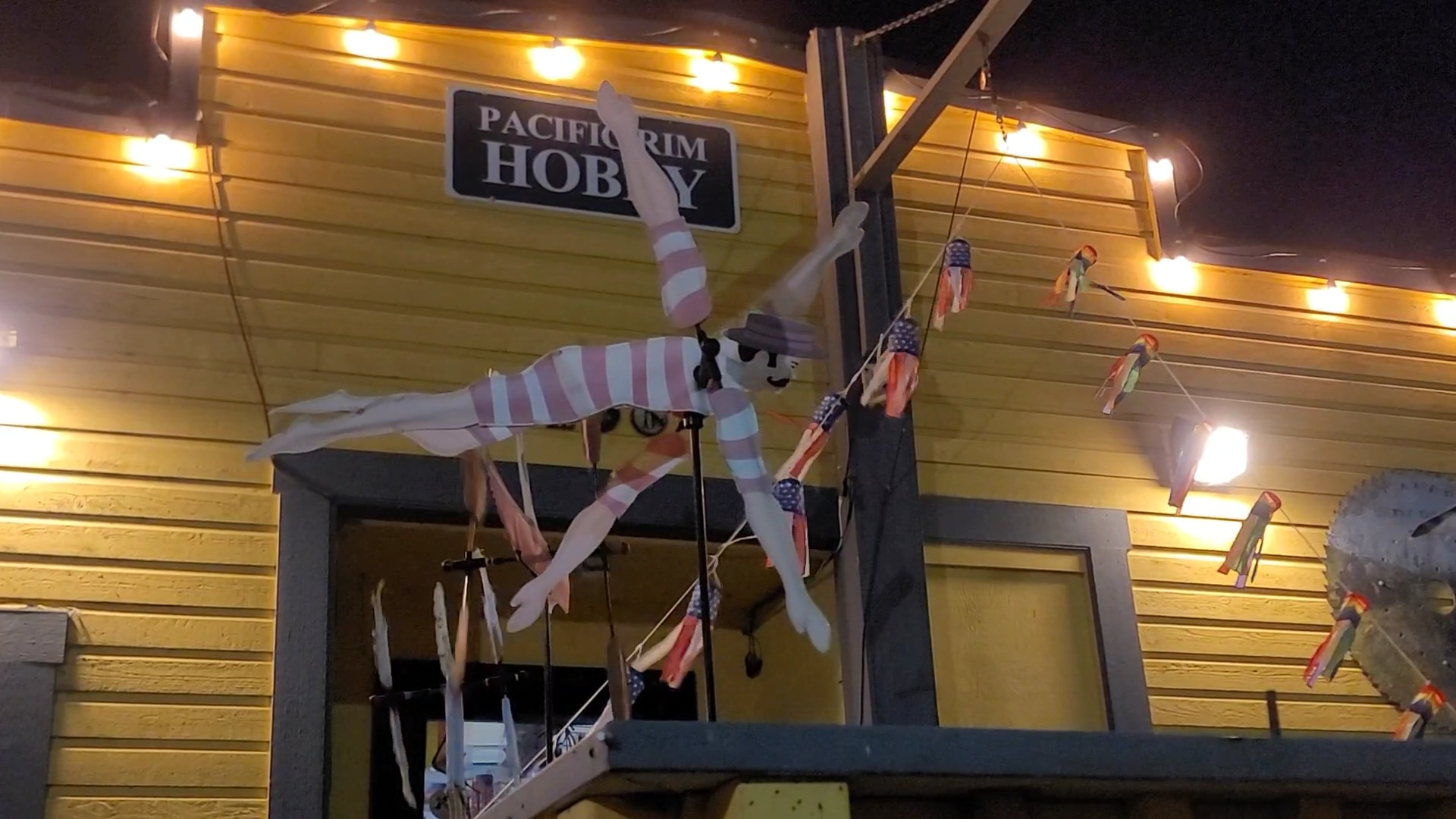 Firsthand Infos On Bar Crossing
The Canadian flag sailboat that has been stuck in the marina for more than two weeks and fails to start the engine every single day is now well known to everyone in the area. We have befriended other boats at the transit dock, exchanging contact information and become like neighbors with the boats that are based in Port Angeles.
Although the community at the marina may not know each other well, they are full of interest in one another. When sitting in the cockpit, someone is sure to come up and compliment the boat. While we are working on the bow light, we may hear a voice from behind asking
"Do you need this?"
and see someone standing on the deck holding a current tester.
Although we had no guarantee that we could set sail again, we learned a lot and received advice from these friends. Port Angeles is a common stop for boats traveling south from Canada for border inspections, so we were able to meet many boats with similar destinations.
As soon as they left Juan de Fuca, they all had plans to go offshore. Coming from Italy, where sailing in fully-crewed boats is common, I was surprised to see everyone sailing double-handed. I was also surprised to learn that most of the people planning to go to California on the offshore route had no prior offshore experience. Both of these things are usually reserved for skilled sailors in Italy.
As the boats departing from Port Angeles reach the western end of Juan de Fuca, they will make a left turn towards the Pacific Ocean, known as "The Big Left Turn". This is the first time that boats entering the "open sea" will experience the scale of Pacific Ocean waves, and from this point on, they will have to cross the bar at each port entry.
The dangerous marine environment created by the collision of a river flowing into the ocean and the seawater rushing in from the Pacific Ocean at a shallow depth on the seabed. The more I learn about bar crossing, the more curious and afraid I become. It is said that when the conditions are severe, the bar may be closed completely, preventing boats from entering or leaving the port.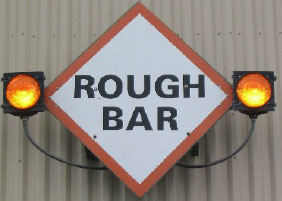 A rough bar sign at the port entrance. The flashing red lights on both sides indicate port entry control.
Even if we have managed to arrive at a port after a difficult journey, it would be very frustrating if the port is closed. Therefore, it is important to carefully choose the timing with the least influence of the bar to cross it, but this is not an easy task. Many ports are located in the area where rivers and the sea meet, and there are few places where you can drop anchor and wait nearby. In addition, the distance between ports is quite far, which could be one of the reasons why people choose offshore sailing.
Neah Bay is the last port before entering the Pacific Ocean, located at the western end of Juan de Fuca. It is also the last port before the rough seas and bar crossings begin. Many people wait for good winds in the large, sheltered area inside the jetty before setting off. It is 52 nautical miles from Port Angeles and would be our first destination if we are able to fix our engine problems and set sail.
In Corsica, where I had just been before coming here, there was an abundance of bays that provided shelter from the winds, allowing me to anchor wherever and whenever I liked. However, here it feels like we are restricted to places marked as "harbor" on the chart in large letters. It's like traveling by bus, with predetermined stops along the route. The next "stop" is La Push, which is said to be a very attractive American Indian reservation, but it seems to be a difficult place to enter.
When entering harbors that require bar crossing, even small boats must follow a "channel" marked by jetties or buoys on the right and left boundaries, but La Push's channel is too narrow, shallow, and close to the beach, so they say it is best avoided if possible.
However, if we want to skip La Push, the distance to the next "stop", Grays Harbor, is over 100 nautical miles, and if we have to go offshore to avoid the risk of getting caught in crab pots and nets at night, the distance becomes even longer. In addition, we also need to coordinate the timing of the bar crossing between the departing and arriving harbors! It seems quite a complicated task.
We were feeling concerned before we talked to those on board the sailing boat that had just arrived from Hawaii. They say that bar crossing is certainly not an easy task, but the Coast Guard could help, and that it's always a good idea to check the bar conditions at the port of arrival before departing by contacting them via phone or VHF. If necessary, we can also request an escort or tow from the Coast Guard.
These guys, who have run through the Pacific Ocean night and day exceeding 2,000 nautical miles and eaten nothing but macaroni cheese, are now going to raid all the restaurants in this town.
They hand out business cards saying
"Contact us if you need anything in the vicinity of Astoria."
Astoria, a port on the Columbia River, is the next "stop" after Grays Harbor.


Firsthand Infos On Crap Pots
The story from another Astoria-based sailor is also interesting. Crab pots are a common hazard in this region, as many residents rely on crab fishing for their livelihood and set up traps frequently. This is one of the reasons why sailors often prefer to sail offshore.
This guy was sailing at night when their propeller got caught in a crab pot. Unfortunately, it was a night with high waves and no wind, so at first it seemed impossible to cut the pot free. They eventually tied a weight to a long line and attached a knife to it. They passed it under the hull and used it like a saw to cut through the pot, successfully cutting the crab pot off. However, they couldn't use the engine due to the tangled lines.
They called the Coast Guard on the VHF radio to request a tow and gave their location, which was between La Push and Grays Harbor. They had to choose which harbor they wanted to be towed to, and they chose Grays Harbor, which was closer to their home port. But the Coast Guard asked again,
"Are you sure you want to go to Grays Harbor?"
Something felt off but he replied,
"Yes, that's correct."
The Coast Guard will tow a boat with engine problems to a harbor for free. However, there is a law that the Coast Guard cannot tow to a harbor that has a commercial towing company. The conversation was taking place on VHF channel 16, so the towing company was also listening at the same time. Therefore, the Coast Guard could not give any further explanations or recommendations but simply asked again,
"Are you sure you want to go to Grays Harbor?"
The moment they were towed across the bar and into the harbor was just before the bar closed due to deteriorating weather. The towing company staff told them to steer carefully as it was not a good time to cross the bar. They managed to safely cross the bar and entered the harbor, with the bar closing behind them. And then there was a bill for $800… The bill filled them with regret for not paying more attention to the tone of the Coast Guard's "Are you sure?"
We were planning to avoid offshore sailing and night sailing if possible, but we have not found a boat that does harbor hopping like we would do. The more people we talk to, the more it seems like harbor hopping is not an easy option. However, it is not easy to make up our minds to go offshore either. We have not yet fully understood the boat, and we did not have the proper communication equipment to receive weather updates while sailing offshore. We do not overesteem ourselves to be able to detect weather changes by observing the sky, either the captain or myself. If we encounter bad weather while offshore, it would take us all day to return to the shore where communication is possible. Can two Fantozzi's with no experience in ocean sailing handle bad weather on the scale of the Pacific Ocean?
In reality, it wasn't just the offshore communication equipment that was missing. The boat's radio had broken and been sent back to headquarters, leaving only a handheld radio on the boat. Unlike a installed radio with a separate antenna, a handheld radio has a narrow reception area and does not communicate well from far away from the port. But we gave up on the possibility of getting a new one and set sail, as we were told it would not be delivered until September. However, the radio was apparently delivered to Canada after our departure to make things worse. If the role of the coast guard were so important, it would be necessary to have a high-performing VHF to ensure communication with them. We try to console ourselves in the current situation of not being able to set sail, thinking that perhaps we are not yet fully prepared.
Another possibility
Every time the engine makes the dry kekekekeng sound at the dock, the people around in the marina express their sympathy with kind words.
"If it were a car, I would push it from behind, but it won't do any good for a boat!"
says the old man, the owner of the boat on the opposite side of the dock. I've noticed him working on his boat alone on several occasions, and I couldn't help but wonder about his boat, as it was the same model as ours.
"She's a Tayana 37, just like ours!"
His story is enjoyable to listen to, from making improvements to fix issues with early hull numbers of this model, the birth tale of the Tayana 37, and an adventure where his boat almost collided with a whale in the Pacific. He and his wife went to Mexico twice, but her seasickness prevented them from going offshore. The harbor hopping route was shrouded in doubt as we hadn't met anyone who had actually done it, but we finally met someone who had successfully navigated it! Can it be this delightful?
The next day, someone was calling from outside the boat and it turned out to be Wade, the old man. He had a copy of the logbook from the last Mexico Harbor-hopping cruise in his hand. He also gave us a business card. Unlike Port Angeles, which has only one diesel engine repair company, there are more options in nearby Port Townsend, so the business card is from someone who could move the boat if we wanted to explore other options there.
A few hours later, we hear someone calling out from outside again. It's him again. This time, he tells us he met someone who knows someone who has repaired the same engine as ours and is storing it in a warehouse. I guess he may have talked about our engine problem with every friend he meets at the marina. Although we only spoke briefly, and this is just a stranger's boat problem, he has shown such deep interest and concern that we don't know how to express our gratitude.
We left a message on the boat of a person who knew the person with the repaired engine. A few hours later, Paul, a man with long hair, visited us. Paul's acquaintance is a diesel engine mechanic who had repaired the engine at his garage and was now storing it. He is now enjoying his well-deserved retirement and doesn't want to repair engines anymore, but Paul thought he might be able to sell it for a good price. Something sounds familiar, the retired mechanic turns out to be Jim – the best mechanic that Ryan originally wanted to introduce to us. Instead of enjoying retirement, was he repairing engines in his garage?
In any case, we hope that we can simply replace the engine with the same model as ours, as we don't need to downgrade to a smaller engine due to the hull shape. Rick is supposed to come on Monday, so we will contact him afterwards.
Would this precarious voyage continue?